---
---
Chigger Foot Boys Marketing Pack


StrongBack Productions with Tara Arts
22 February – 11 March 2017
Tara Theatre, 356 Garratt Lane, Earlsfield, London, SW18 4ES
Love, duty, death and dominoes make for an intoxicating cocktail in Chigger Foot Boys. Based on true events in the lives of Jamaicans who fought in World War One and set amid the banter in a rum bar near Kingston Harbour, four young men tell their stories of death and glory as the end of the British Empire looms.


Cast Ike Bennett, Stanley J. Browne,  Jonathan Chambers, John Leader, Suzette Llewellyn, Matthew Truesmith
Creative Team
Director, Irina Brown
Designer, Louis Price
Lighting Designer, Kevin Treacy
Music/Sound Designer, Dominique Le Gendre
Voice-dialect Coach, Claudette Williams
Production Team
Production Manager, Shaz McGee
Stage Manager, Davey Williams
Signer, Jacqui Beckford
For StrongBack
Patricia Cumper and Dominique Le Gendre (Artistic Directors) and Pauline Walker (Producer)
Production Photographer, Richard H. Smith
Filming, Three Blokes Productions
Read the press release about the production.
StrongBack has been awarded a grant from the Heritage Lottery Fund (HLF) to research the history behind the play. Read the press-release and find out more about the HLF project here.
Download the Chigger Foot Boys Education Resource Pack
Buy the programme text from Oberon Books
Suzette Llewllyn nominated for an Offie 2017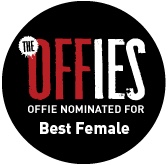 L. Allan
Developed in July 2014 at Ovalhouse.
Press night supported by